Leveraging Social Proof Psychology as Your Business's Secret Advantage
When was the last time you bought a product or sought a service from a company without knowing anything about other customers' opinions?
Probably not recently.
‍
Today's consumers look for word-of-mouth referrals, customer reviews and testimonials to reinforce their purchasing decisions before they're likely to spend a single dime.

In fact, research suggests that customers trust product and service reviews 12 times more than a company's own marketing copy and about 90% of customers value reviews more than anything said by a salesperson.
‍
But scouring review websites is a process that many find stressful and time-consuming.
‍
Cue the rise of social proof marketing—a tactic for small businesses to leverage customer reviews to help promote their business.
‍
If you're a small-business owner, you can't afford to ignore social proof marketing.
‍
However, how does a small business like yours harness the power of reviews as social proof to blow the roof off your sales?
‍
In that case, I'm going to explain:
What social proof is and why it's so powerful
Why social proof works and what it means to use social proof marketing;
How social proof marketing works with online reviews; and
And six reasons why you should leverage social proof, the most important of which is that it will drive your sales up.


So, let's do it.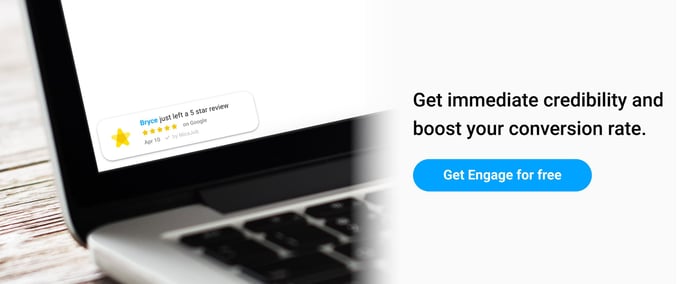 What Is Social Proof and Why Is it Powerful?
What I'm about to show you is a look behind the curtain. This is why social proof is going to be the tool that drives your sales up.
Social proof is super powerful because it is rooted in human behavior.
Humans copy the behavior of other humans. Taking this one step further, we also know that humans are naturally risk-averse and regret-averse.
To apply this to social proof marketing then is to use recommendations, referrals and reviews from existing customers to attract new customers, validate buying decisions and develop your company's reputation.
Social proof is essentially clout. It's thinking to yourself, "other people say glowing and wonderful things about this business, so I can probably trust this company as well!"
As a business owner, if you can tap into these natural human traits and harness the power of social proof to your advantage, you will drive more sales through your website.
How Social Proof Psychology Works
At its core, social proof is all about persuasion.
First coined by Robert Cialdini, a professor of marketing psychology, in his work, Influence: The Psychology of Persuasion, social proof is a sociopsychological phenomenon whereby in a given situation humans naturally copy the behavior of others in an attempt to exhibit "correct" behavior.
Think of it this way: when you don't have enough information to make a decision, it's natural to turn to others to see what they did and adjust your behavior accordingly.
Similarly, a potential customer might not know a lot about your business or your services, so they'll trust other people who have interacted with your business in the past as a reliable source for that knowledge.
Simply put, if you know your neighbors happily had their front yard maintained by a landscaping business, you're now much more likely to reach out to that local landscaping company to enquire about your own yard.
That's the power of social proof.
What Are Examples of Social Proof?
Social proof can take many forms, especially online. We've outlined examples of social proof related to customer reviews in another blog post, but at a high level, typical examples include:
Influencer testimonials
Likes and shares on social media
Credential badges
Promotions from traditional media (public relations)
Case studies
Online reviews


The most successful companies draw on multiple items from the above list. As a small business, however, you can gain a footing with social proof by focusing on customer reviews.
Customer reviews are one of the most impactful kinds of social proof and one of the easiest ways to kickstart social proof marketing.
Think about it: online customer reviews are now the leading example of social proof. Entrepreneur even proclaimed reviews as "the new social proof" to highlight how important it is for local businesses to collect customer reviews online.
But merely collecting online reviews may not be sufficient. What sets a business apart is sharing reviews across their website to directly promote their reputation to potential customers. This is what is at the heart of social proof marketing.
What Is Social Proof Marketing Then?
Social proof marketing is taking social proof, like reviews, and using them across your platforms to engage with your customers and market your business.
We see this all the time when people choose a plumbing company based on the company's reviews or book an electrician because ten other people recently took the same action.
Remember, humans copy the behavior of others. If you can show a new lead that another customer had a positive experience with your business, you will reduce natural aversions to risk and regret and inspire that lead to take a similar action towards a positive experience with your business.
And one of the easiest ways to do this is by sharing customer reviews on your website.
How Social Proof Marketing Works With Online Reviews
Now that we know what social proof marketing is, we can focus on how this works with customer reviews.
We already know reviews are a big deal. A whole bunch of us (as in 80-90% of consumers) read online reviews before making a purchase.
I'd wager that you've read or watched reviews before deciding to hit "check out."
Reviews help potential customers understand more about the business and the quality of their work through a fellow customer's eyes.
They're less biased than a sales pitch or marketing copy from the business—we tend to trust what other people have to say about their experience with the product or service.
Publishing recent reviews to your website, therefore, can make a world of difference in influencing the behavior of your website visitors.
In other words, reviews help convert a passing visitor into a paying customer.
Best Practices for Using Customer Reviews as Social Proof
There are a couple of key things to keep in mind when it comes to leveraging reviews as social proof:
The more reviews you have, the better.
Frequency is big because it shows potential customers that lots of people have made the sound decision to purchase from your business and that's persuasive.
Recency is also important.
A review from the current year is much more powerful than a review from past years. If you aren't showcasing recent reviews, you're inviting potential customers to question why there's a gap or break in your review collection.
Detailed reviews are best.
Highlight reviews that have lots of detail in the text and include images or videos. These types of reviews will drive more social proof for onlookers wondering if they should book with your business or purchase your product.


3 Examples of How to Use Reviews as Social Proof
There are many ways you can use your reviews to tap into the benefits of social proof, but as examples, we'll highlight how you can do this using the NiceJob review-marketing software.
Showcasing reviews on your website.
Sharing social proof in real time.
Posting reviews on social media.


1. Showcasing Reviews on Your Website
With your NiceJob account comes a Stories widget that you can add to your website to showcase as many reviews as you'd like. With the Stories widget, you can include photos of a completed job, before-and-after photos, images of your team, etc. This will enhance the quality of your social proof. Here's one way to showcase your reviews:
Source: https://get.nicejob.com/reviews
Here's another way you can share reviews on your website. In this case, this home-service business sprinkled reviews throughout the copy of their homepage:
Source: https://patriotexteriorservices.com/
2. Sharing Social Proof in Real Time
Another way you can use social proof on your website using your reviews is with Engage. This is a free tool you can install on your website that highlights recent reviews and customer actions in real time.
Engage boosts your credibility with website visitors and also bumps your conversion rate (meaning more website bookings for you).
You can see this discreet yet effective popup in the bottom-left corner on this carpet cleaning website:
Source: https://integrityvancouver.com
3. Posting Reviews on Social Media
Publishing reviews to social media is another fantastic way to leverage social proof.
Using NiceJob, you can automatically post your reviews to social-media platforms like Facebook.
Introducing reviews to your social-media platforms extends the reach of your social-proof marketing efforts and facilitates more sales for your business.
Here's a great example of this in action:
What Companies Benefit From Social Proof and Sharing Customer Reviews
I would venture to say that all businesses—no matter the industry, no matter the size —should use reviews as social proof to help others make purchasing decisions.
But many small, local businesses need to pay close attention to the opportunities presented by social proof marketing. Without the benefit of a large brand with an existing reputation, it's hard to understate the importance small businesses should place on reviews as social proof.
Home-Service Contractors
From landscapers and window cleaners to plumbers and pest-control companies, local-service businesses need to implement social proof marketing if they want to "own their neighborhood."
Between Facebook, Google My Business, Houzz and Yelp, consumers have complete control over deciding who they're going to invite into their homes and lots of resources to help them make that decision.
To ramp up your sales and scale your business, you need to showcase your reviews as social proof every opportunity you get to convey to families that your business is worthy of receiving their hard-earned money.
Did you know that approximately 96% of consumers rely on local reviews when evaluating a residential-services company?
If you're not sharing your success stories across your website and social media, you might as well say goodbye to lots of extra revenue.
Doctors, Dentists and Lawyers
If you provide a professional service in medicine or law, you might think that your expertise alone is enough to increase your clinic's or firm's revenue.
But patients and clients want to see that you have a strong reputation and they certainly won't just let you into their life and pay you if you're not demonstrating the value of your services with social proof.
Almost 75% of patients refer to reviews before choosing a new doctor or dentist and over 80% of clients won't hire a law firm if they don't have strong customer reviews.
Professional-service providers benefit greatly when harnessing the power of social proof marketing to persuade people why they should pick your clinic or firm over the competition.
Real-Estate Agencies
Think about it: if you're a real-estate agent, your clients are literally inviting you into their home. It's one of the most intimate professional relationships possible.
You can't just maintain your business by paying for a few banner ads at bus stops and posting your realtor license on your website.
Almost 66% of clients select a real-estate agent based on online reviews and social proof.
The top real-estate agencies distribute and share social proof and reviews on their website to engage with potential homebuyers and homesellers, setting themselves apart from their competitors and attracting more clients to grow their business.
6 Ways Social Proof Marketing Benefits Your Small Business (Including Driving Sales Through The Roof)
Now for the part you've been scrolling for. There are six ways that social proof marketing can benefit your company and each one of them will result in more sales through your website.
Automate sharing customer reviews on your website.
Validate your customers' buying decisions with social proof.
Show potential customers that you care.
Identify target customers with social proof.
Increase your website's conversion rate.
Develop the reputation you deserve from displaying customer reviews.



1. Automate Sharing Customer Reviews on Your Website
If you can automate the process of collecting and distributing reviews to the platforms where potential customers look for your services, not only will you attract new business but you'll also free up time you would otherwise have to spend chasing down reviews.
That's a major win-win if you ask me!
If you're interested in an automated reputation-marketing tool, this video shows you how NiceJob's automation works.
2. Validate Your Customers' Buying Decisions With Social Proof
No one enjoys buyer's remorse—it's a terrible feeling.
Naturally we all look to avoid making regrettable decisions and one way we do this is by reading reviews. These honest, unbiased testimonials help us feel more comfortable in purchasing a product or hiring for a service.
If your business does good work and offers an exceptional customer experience, your reviews will speak to this. This feedback helps to validate the choices others will make when they're considering spending their dollars on your business.
3. Show Potential Customers That You Care
Social proof benefits your small business in more ways than demonstrating to your potential customers that they shouldn't miss out on your products or services. It also signals to them that you care.
Using reviews as social proof on your website shows your visitors that you value what your existing customers have to say and that you're not afraid to let others know it.
Sharing social proof on your website reinforces that your company fosters customer loyalty and gestures to your website leads that you'll care about them too.
To really show you care about customer feedback, you should respond to all reviews. In fact, here's five ways you can respond to positive reviews. Should a bad review ever arise, here's some tips and examples you can draw on to respond to a negative review.
4. Identify Your Target Customers With Social Proof
If you're a small-business owner, anything you can do to help leads understand that they're exactly the kind of people who will benefit from your services will help your bottom line.
Circulating social proof on your website shows potential customers that you and them could be a good match.
Online reviews as social proof tell your website visitors specifically who your ideal customer is and how you can help them.
When a website visitor evaluates your company online, imagine how reassuring it would be when they see a discreet popup displaying the positive feedback of an existing customer.
Plus, when the review confirms that this existing customer had the same pain points or faced similar circumstances as the website visitor,any doubts about whether your business could serve them well would be stamped out.
5. Increase Your Website's Conversion Rate
One thing we have yet to talk about is how much Google and other major search engines love reviews.
It's true!
Reviews help search engines identify that your business is trustworthy, so Google will more likely display your business to potential customers searching for products or services like yours.
Social proof enables your business to be discovered by more people.
Then, once your potential customers find and navigate to your website, you have another opportunity to display customer reviews or client testimonials to build your case as a quality business.
This will motivate new customers to choose your business based on what others have said about their experience. Sure enough, sharing social proof results in higher website-conversion rates for small businesses; when website visitors see social proof, they're more likely to click on a phone-number link or submit an online form.
All you have to do at this point is sit back and watch your conversion rate climb.
6. Develop the Reputation You Deserve From Displaying Customer Reviews
You've worked hard to establish a business that produces quality work and high standards of customer care. If you want more people to know about your stellar reputation, the most efficient way to spread the word is through your reviews.
Sharing online reviews as social proof on your website is like word-of-mouth, only more powerful and more efficient. People on the internet treat reviews as they would a recommendation from a friend or family member, so they're incredibly powerful forms of social proof.
Developing your reputation will help you grow your business and reviews solidify and showcase your reputation to the world.
Drive Sales to Your Website With Engage From NiceJob
If, after reading this, you're looking to include social proof marketing into your strategy, then Engage is the tool you need.
Engage allows small-business owners to improve their credibility and boost their conversion rates.
It displays a small popup window on your website to show new potential customers recent reviews and customer bookings. It's designed to help you leverage social proof—and it works.
And the best part? Engage is completely free.
Get Engage and watch your conversion rate climb (hooray for more bookings through your site!).